San Juan, Puerto Rico Overview
San Juan is the capital and most populous municipality in the Commonwealth of Puerto Rico. San Juan was founded by Spanish colonists in 1521, who called it Ciudad de Puerto Rico ("Rich Port City"). San Juan is located along the north-eastern coast of Puerto Rico. It lies south of the Atlantic Ocean; north of Caguas and Trujillo Alto; east of and Guaynabo; and west of Carolina. The city occupies an area of 76.93 square miles (199.2 km), of which, 29.11 square miles (75.4 km) (37.83%) is water. San Juan's main water bodies are San Juan Bay and two natural lagoons, the Condado and San José.
The architecture of San Juan is very diverse, due to its size and all the cultural influences received during its existence. Today the capital features numerous hotels, museums, historical buildings, restaurants, beaches and shopping centers. In San Juan there are numerous tourist attractions, including: Old San Juan, Ocean Park, Isla Verde and Condado.
Detailed Map of San Juan, Puerto Rico
Weather
San Juan has a tropical monsoon climate and enjoys an average temperature of 81.0 °F (27.2 °C) although 90 °F (32 °C) or higher temperatures are seen on an average 79 days annually, more commonly occurring during the wetter months of the northern summer, especially if the winds come from the south. In the winter, temperatures can drop to around 60 °F (16 °C), though the average winter low is 71 °F (22 °C). Rainfall is well-distributed throughout the year, but the months of January, February, and March are the driest; as March averages just 1.95 inches (49.5 mm) of rain, Rainfall averages 56.35 inches (1,431.3 mm), falling on an average 198.5 days per year; despite this dampness, the city averages 2,970 hours of sunshine per year.
Temperature Average in °F.
Top Things to Do in San Andres Island, Colombia, from a Cruise Ship - Created by BoostVacations.com Staff
Top Things to Do in San Andres Island, Colombia, from a Cruise Ship - Feel free to add, vote or provide feedback to the list
Jun 07, 2014 - es.wikipedia.org -

92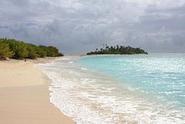 El atolón tiene forma de riñón, posee 6,4 km de largo y un ancho de 3,5 km y consiste en 2 cayos del mar Caribe. El primero, denominado East Cay, está sembrado con palmas de coco, arbustos bajos y algunas gramíneas. Los pescadores lo utilizan para pernoctar durante sus jornadas de pesca y es igualmente frecuentado por los turistas.