Roseau, Dominica Overview
Roseau is located on the west (leeward) coast of Dominica, and is a combination of modern and colonial (French Style) architecture. It is the capital and largest city of Dominica. With a population of 16,582. It is a small and compact urban settlement, located within the Saint George parish and surrounded by the Caribbean Sea, the Roseau River and Morne Bruce. Built on the site of the ancient Kalinago Indian village of Sairi, it is the oldest and most important urban settlement on the island of Dominica.
Roseau's nearby scenery (mostly in its so-called valley) includes Boiling Lake, 10.5 km (6.5 mi) east, in the Morne Trois Pitons National Park, waterfalls, thermal springs, and scenic plateaus.
Detailed Map of Roseau, Dominica
Weather
Roseau's climate is a tropical rainforest climate Roseau features relatively constant temperatures throughout the course of the year with average high temperatures generally between 28 and 31 °C (82 and 88 °F) and average low temperatures between 19 and 23 °C (66 and 73 °F). Rainfall is common throughout the course of the year, with the city seeing on average nearly 2,000 mm (79 in) of rain per year. Roseau features a noticeably drier stretch from February through April, though each of these months on average still sees at least 100 mm (4 in) of precipitation.
Top Things to Do in Roseau, Dominica, from a Cruise Ship - Created by BoostVacations.com Staff
Top Things to Do in Roseau, Dominica, from a Cruise Ship - Feel free to add, vote or provide feedback to the list
Jun 07, 2014 - papillote.dm -

17
Home " Papillote Tropical Gardens Ten acres of nurtured wilderness, nestled in a canopy of tree fern and breadfruit trees, provide a green frame for the many "micro-habitats" of the rainforest garden created by Anne Jno Baptiste.
Jun 07, 2014 - en.wikipedia.org -

22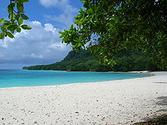 Champagne Beach is a popular beach located on the island of Espiritu Santo in Vanuatu. It is famous for its beautiful white sandy beaches, one of the best in the South Pacific. It is visited regularly by tourists and cruise boats from Australia. Its waters are very clear.[citation needed ]
Jun 07, 2014 - en.wikipedia.org -

19
Dominica Botanical Gardens is located on the Caribbean island-nation of Dominica, in the capital of Roseau. Once known as one of the finest botanical gardens in the region, it was severely damaged by Hurricane David in 1979. Following restoration efforts, it remains a focus of cultural life in Roseau, and a center of conservation research on Dominica.