Puerto Chiapas, Mexico Overview
The Port of Chiapas is a port in Puerto de San Benito in the Soconusco region in the southern portion of the Mexican state of Chiapas. The port entrance lies about 13 kilometres (8.1 mi) northwest of the mouth of the Suchiate River which is the international boundary between Mexico and Guatemala. Puerto de San Benito is connected by Highway 225 to Tapachula International Airport and the city of Tapachula. Since its opening in 1975 the port has been a small fishing and agricultural transport center. Upgrades carried out in 2005 and since by the government have added facilities for cruise ships and more heavy cargo.
There is little of interest to the cruise passenger in the immediate vicinity of the Port. There is a craft market as one leaves the dock, but the nearest town, Tapachula, is a few miles inland. Volcan Tacana dominates the Port's eastern horizon and a number of ruins and biological reservations are accessible from the port.
Detailed Map of Puerto Chiapas, Mexico
Weather
Annual Jan Feb Mar Apr May Jun Jul Aug Sep Aug Nov Dec
26.4 25.4 25.2 26.1 27.1 27 26.7 27.1 26.6 26.5 26.5 26.4 25.6
Top Things to Do in Puerto Chiapas, Mexico, from a Cruise Ship - Created by BoostVacations.com Staff
Top Things to Do In Puerto Chiapas, Mexico, from a Cruise Ship - Feel free to add, vote or provide feedback to the list
May 28, 2014 - en.wikipedia.org -

57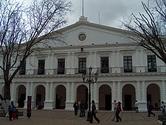 San Cristóbal de las Casas is a city and municipality located in the Central Highlands region of Chiapas. As a municipality, the city functions as the governmental authority for 83 other rural communities outside the city proper, which cover a territory of 484 km 2.
May 28, 2014 - en.wikipedia.org -

44

For most of the 19th century, Conservative and Liberal factions would struggle for power in Mexico, with Tuxtla favoring Conservative ideology. The first newspaper in the city was published in 1827 called Campana Chiapaneca under Joaquin Miguel Gutiérrez. Gutiérrez died in 1838, fighting for Conservative ideals.
May 28, 2014 - en.wikipedia.org -

54
Comitán is also a popular tourist destination, mostly for Mexican nationals, though some foreign visitors can also be seen. The town itself is one of the most pleasant and pretty in Mexico, with colonial architecture, narrow avenues, and clean streets. The climate is cool most of the year, and can get quite chilly from October to March.
May 28, 2014 - en.wikipedia.org -

52
As of 2010, the city of Palenque had a population of 42,947, up from 37,301 as of 2005. Other than the city of Palenque, the municipality had 950 localities, the largest of which (with 2010 populations in parentheses) were: Río Chancalá (2,156), Doctor Samuel León Brindis (1,320), Agua Blanca Serranía (1,263), Arimatea (1,251), and Profresor Roberto Barrios (1,173), classified as rural.
May 28, 2014 - en.wikipedia.org -

44
Chiapa de Corzo is an archaeological site of pre-Columbian Mesoamerica, located in the Central Depression of Chiapas of present-day Mexico. It rose to prominence during the Middle Formative period, becoming a regional center or capital that controlled trade along the Grijalva River.
May 28, 2014 - en.wikipedia.org -

52
Tapachula is Mexico's main border city with Guatemala on the Pacific coast area even though it is located some kilometers away from the border proper. The main commercial border crossing is in Ciudad Hidalgo about forty kilometers away.