Ocho Rios, Jamaica Overview
Ocho Rios (Spanish for "Eight Rivers") is a town in the parish of Saint Ann on the north coast of Jamaica. Just outside the city, travelers and residents can visit Columbus Park, where Columbus supposedly first came on land, and see maritime artifacts and Spanish colonial buildings.
It was once a fishing village but now caters to tourists. It is a port of call for cruise ships as well as for cargo ships loading sugar, limestone, and in the past, bauxite. Scuba diving and other water sports are offered in the town's vicinity. The town has restaurants, night clubs in Margaritaville and Dolphin Cove, where tourists swim and interact with dolphins.
Detailed Map of Ocho Rios, Jamaicas
Weather
Top Things to Do in Ocho Rios, Jamaica, from a Cruise Ship - Created by BoostVacations.com Staff
Top Things to Do in Ocho Rios, Jamaica, from a Cruise Ship - Feel free to add, vote or provide feedback to the list
Jun 02, 2014 - yardietours.com -

83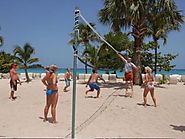 Welcome to Yardie Tours. We provide one day tours to some of the most beautiful and fun filled parts of the island of Jamaica with a focus on Ocho Rios. Enjoy lavish greenery, clear crystal blue waters and fantastic duty free shopping. In English.
Jun 02, 2014 - en.wikipedia.org -

74
A bridge over the white river near its mouth, Ocho Rios, St. Ann Parish, Jamaica.
Jun 02, 2014 - en.wikipedia.org -

71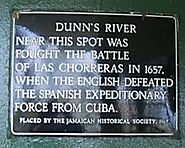 Dunn's River Falls is a famous waterfall near Ocho Rios, Jamaica and a major Caribbean tourist attraction that receives thousands of visitors each year. At about 180 feet (55 m) high and 600 feet (180 m) long, the waterfalls are terraced like giant natural stairs though some incorporate man-made improvements.
Jun 02, 2014 - en.wikipedia.org -

76
Dolphin Cove Jamaica is a marine attraction in Jamaica at which guests can swim and interact with dolphins, sharks, and stingrays in captivity. Visitors may also interact with other species including iguanas, snakes and a variety of birds as well as other marine creatures in the Jungle Trail Walk.
Jun 02, 2014 - en.wikipedia.org -

77
James Bond Beach is a beach that sits on a small peninsula at Oracabessa Bay, about 10 miles (16 km) from Ocho Rios on Jamaica's north coast. The beach has brightly painted changing rooms, a water sports centre, a bar, and a restaurant.
Jun 02, 2014 - harmonyhall.com -

92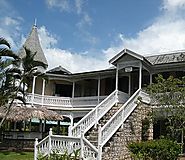 Jun 02, 2014 - en.wikipedia.org -

68
Reggae Beach is a 250 acre property located in Jamaica, mid-way between Ocho Rios and Oracabessa. The beach is a beautiful long stretch of sand protected by cliffs on either end. Reggae Beach is known as one of the quieter, less-crowded beaches in Jamaica and is considered as one of the island's best-kept secrets.