Lake Michigan Overview
Lake Michigan is the only one of the Great Lakes wholly within the borders of the United States; the others are shared with Canada. It has a surface area of 22,400 square miles (58,000 km), making it the largest lake entirely within one country by surface area and the fifth largest lake in the world. It is 307 miles (494 km) long by 118 miles (190 km) wide with a shoreline 1,640 miles (2,640 km) long. The lake's average depth is 46 fathoms 3 feet (279 ft; 85 m), while its greatest depth is 153 fathoms 5 feet (923 ft; 281 m).It contains a volume of 1,180 cubic miles (4,918 km³) of water. Green Bay in the northwest is its largest bay. Grand Traverse Bay in its northeast is another large bay.
Lake Michigan is one of the five Great Lakes of North America and the only one located entirely within the United States. The other four Great Lakes are shared by the U.S. and Canada. It is the second largest of the Great Lakes by volume and the third largest by surface area, after Lake Superior and Lake Huron.To the east, its basin is conjoined with that of Lake Huron through the wide Straits of Mackinac, giving it the same surface elevation as its easterly counterpart; the two are technically a single lake.Lake Michigan is shared, from west to east, by the U.S. states of Wisconsin, Illinois, Indiana, and Michigan. The word "Michigan" originally referred to the lake itself, and is believed to come from the Ojibwa word mishigami meaning "great water".
Detailed Map of Lake Michigan
Top Videos for Cruise Destination Lake Michigan–Created by BoostVacations.com Staff
Top Videos for Cruise Destination Lake Michigan – Created by BoostVacations.com Staff. Feel Free to add, vote or provide feedback to the list.
1
Huge Fog Bank Rolling in over Lake Michigan
Aug 02, 2014 - youtube.com -

11
2
Ice Caves of Lake Michigan
Aug 02, 2014 - youtube.com -

12
Once in a decade the Great Lake freezes and the ice caves arise. Here Tom and George explore the wonders offshore near Northport, Michigan : the tip of 'our mit's' little finger.
3
Lake Michigan Boat Trip
Aug 02, 2014 - youtube.com -

10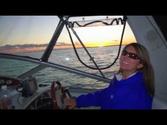 16 Day Boating Trip on Lake Michigan aboard Seapickle II, our Four Winns 268. We traveled from Portage, Indiana to Mackinac Island, Michigan to Sturgeon Bay, Wisconsin and back home... stopping at different coastal towns along the way!
4
Lake Michigan Quicksand
Aug 02, 2014 - youtube.com -

10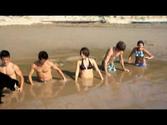 While walking on the newly dredged beach of frankfort, I realized I was sinking a little bit into the sand... so I decided to see if I could sink any more. Well, half an hour later this is what my family was up to. It's pretty sweet.
5
Dramatic underwater video of WWII Bomber in Lake Michigan
Aug 02, 2014 - youtube.com -

11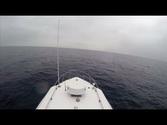 6
Chicago, Illinois. Best city on Lake Michigan
Aug 02, 2014 - youtube.com -

13
Video of downtown Chicago featuring the Millenium Park, The Cloud Gate "the Bean", Willis Tower, the Hancock Building. The Loop, Michigan Ave, State street and much more.
7
Spring Brown Trout on Lake Michigan 2014
Aug 02, 2014 - youtube.com -

11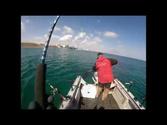 Austin and Matt finally get back out on Lake Michigan for some open water brown trout fishing.
8
On the Shores of the Great Lakes
Aug 02, 2014 - youtube.com -

14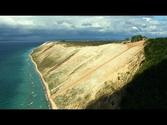 Surrounded by four of America's Great Lakes, Michigan has more freshwater shoreline than any other state. Each of its shores has its own unique landscape, from forests, to beaches, to giant walls of sand.
9
1/5/2014 Ice Breaking Operations in the bay of Green Bay on Lake Michigan
Aug 02, 2014 - youtube.com -

12
Ice Breaking Operations in Green Bay, Lake Michigan. Footage shot from the from the Great Lakes Freighter SS Wilfred Sykes. Clip 1. Looking aft down the deck for visual perspective. Clip 2. View just above the ice of the ship breaking through. Clip 3. Another view of the bow breaking through ice.
10
Chicago-to-Boston flight: view of Lake Michigan, Lake St. Clair, Lake Erie, Salem MA 2012-01-07
Aug 02, 2014 - youtube.com -

12
On a mostly clear enroute day in winter, a Chicago-to-Boston flight climbs above Chicago's northern suburbs before crossing Lake Michigan to fly east along Michigan's I-94 corridor. Cloud deck below clears just west of Detroit, affording view of the expanse of metropolitan Detroit, followed by Lake St.